Hi5 Neptune Multifunctional Eye Massager w/ 2-Layer Airbags, Bluetooth & Music, LCD Display
$40.99
Regular price
$49.99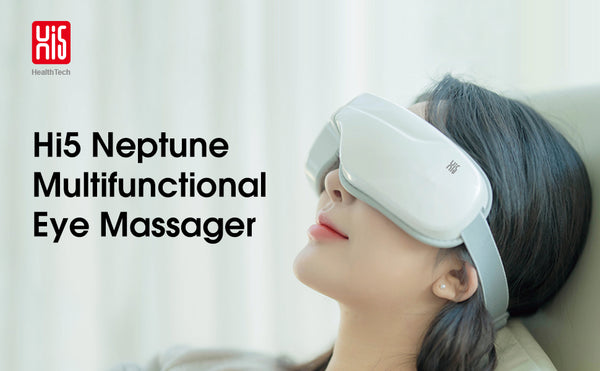 Hi5 Neptune Multifunctional Eye Massager is your idea choice. It has main attractive advantages: 3D finger-like massage, constant hot compress, air compression, high frequency vibration, 5 modes adjustable as well as 15 minutes of smart timer, music play function, one button design, ultra long runtime and 180 folding. All of these do not only make the massage more effective, but also make you have a more comfortable massage experience.
Large Surface of Constant Hot Compress
Hi5 Neptune has a large surface of constant hot compress and even heating of 42°C/107.6°F which is as comfortable as a warm towel does and fully relaxes the muscle of the eyes, and releases the eye fatigue and stay away from Swollen Eyes.

High Frequency Vibrating Massage with 2 Layers of Air Bag
The 2 layers of air bag perfectly matches the curve of the eyes with even heating and it simulates hand massage with the high frequency vibration to fully relax the eyes and revive the vitality of the eyes.

Five Modes to Adjust
Hi5 Neptune has 5 modes adjustable, and you can enjoy the eye spa anytime and anywhere.
Automatic mode(air compress+ vibration+music): relieve the fatigue of the eyes
Vitality mode(air pressure+vibration+hot compress+music): revive the vitality of the eyes
Eye-clear mode(hot compress+music): daily eye relaxation
Dynamic mode(hot compress+vibration): recover the elasticity of the eyes
Sleep mode(air compression): release the pressure before sleep

Music Play Function
There are built-in music inside the eye massager, so that you can enjoy music while you are massaging which will definitely adds the comfort of the using experience.
15 Minutes of Smart Timer
Hi5 Neptune has auto shut-off function which means it will automatically turn off after working for 15 minutes. This is a reasonable and scientific massage time, since an excessive massage will be harmful and a short massage will have no effect.
Ultra Long Run Time
Since Hi5 Neptune selects quality and large capacity battery so that it has long run time and can be used for around one week. Besides it is with USB-C charging port which makes you use it anytime and anywhere, extremely portable.

180°C folding design, easy to carry
Hi5 Neptune is 180°C folding, which enables you to load it into your bag and can even be carried on flight.
One Button to Control
Easy to Operate
Hi5 Neptune is with only one button to control the massage modes, music play or pause which is very smart, and suitable for anyone.

Exquisite Details
The material is made of Nano silicone material which is delicate, skin-friendly and comfortable.
The length adjustment band is adjustable which enables you to adjust its tightness easily.
The ABS environmental material is anti-corrosion and drop-proof, safe and durable.