Hi5 Canton Fair Global Share
广交世界   互利天下
Canton Fair   Global Share
The slogan of the 130th Canton Fair is "Canton Fair Global Share", which reflects the function and brand value of the Canton Fair. The idea came from the Canton Fair's role in promoting global business and shared benefits, which embodies the principle of "harmony leads to peaceful coexistence". It demonstrates the responsibilities undertaken by a major global player in coordinating epidemic prevention and control, facilitating the economic and social development, stabilizing the world economy and bringing benefits to human beings under the new situation.The 130th Canton Fair will be held between October 15 and November 3 in an online and offline merged format. The slogan, exclusive logo and key vision have been announced at the 60 days countdown to the 130th Canton Fair. Let's have a look!

Sintang industrial attended the 130th Canton Fair (October 15-October 19).  We will present 3 brands products that are Hemet treatment beds, Hi5 health tech and MT massage table. The new booth with a brand new appearance will welcome many customers all over the world and our high-quality products are favored by all clients.
Hemet includes the Milton treatment table, fairworth chiropractic bed, multiple clinical treatment products.
Hi5 has massage chairs, massage guns, massage pillow, ergonomic furniture, and different kinds of massage devices.
Also, we will show Sonora beauty bed, Alula-Hedy massage table, backrest stool, and posture chair, Italian Pu Tattoo Chair, goodwill electric massage bed, etc.
As a high-quality manufacturer of massage equipment, medical equipment and peripheral products, Sinqian has been committed to product research and development since its establishment, and constantly enhancing innovation awareness and ability. At present, we have formed a complete system in product development, production, sales and service, aiming to produce high-quality products and provide high-quality services. It is an indispensable driving force for us to get your affirmation!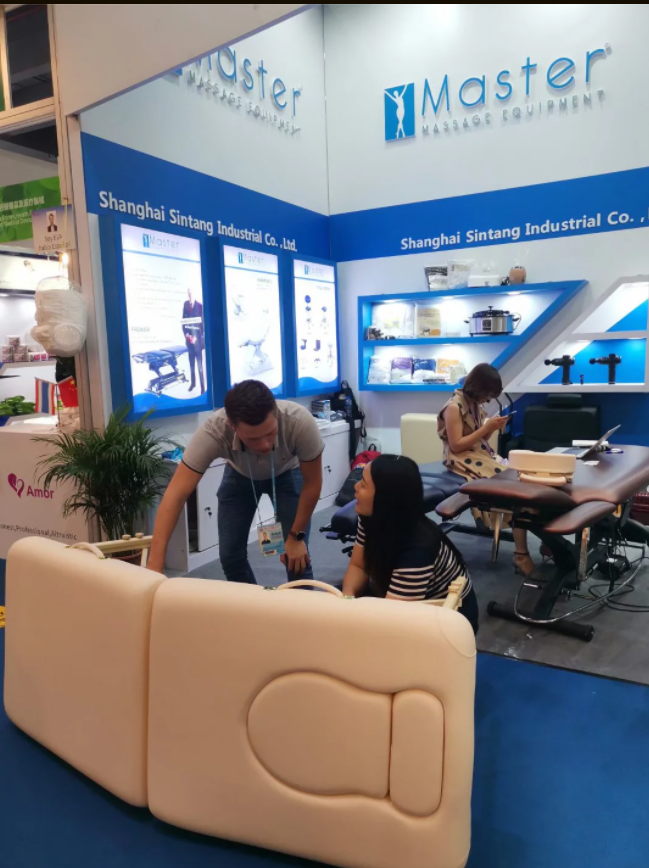 We will not only join offline of Canton Fair will from October 15 to October 19 in Guangzhou but also Live-streaming on our shop of Alibaba from 12:00 to 15:00 on Oct 15th, 2021.  Welcome our clients and all colleagues to watch it, as well as visit and communicate with us to the 130th Canton Fair. Let's have an "encounter" at the booths of 15.2G43-44, H01-02.